Our property is situated in the middle of vineyards, which cover about 10 hectares of the vineyards cultivated by the family of Huchet, who produces the muscadet "Clos Les Montys".

The vines are treated by environmentally sound technologies, it is a balance between the traditional and new biological technologies, which allows to fertilize the soil, protect the plants and not to harm the ecology at the same time.


Les Montys Clos dominates in the swamps of Goulaine.

Its exposure and exceptional soil (superficial sand deposits on the base of the rocks of amphibolite and metagabbro type) contribute to the wines' exceptionally early maturity. In fact, this wine variety is the first to sprout in spring.

The paradox of this soil, called "the green rocks" here, is that it breeds the wine characterized by a tough skin which allows a rather late cropping.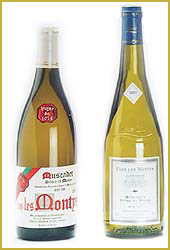 Clos les Montys has a light yellow colour with some green tincture, it smells white flowers (acacia), and it has a brisk flavour with some citrus hue, it is a type of a rough wine. This muscadet goes perfectly with all kind of shells, lobsters and scallops, fish. The ideal temperature of serving the wine is about 12 C.